Three good reasons to use Auto Buying Assistant LLC:
Save Money
We have saved our clients hundreds, even thousands, of dollars on their new or used vehicle. We have 20+ years of industry experience. We are aware of rebates and dealer incentives that the general public typically isn't aware of. This knowledge gives us an edge in negotiating the purchase price for our clients.

Car buying services can save money, especially for those who hate to haggle.
—The Wall Street Journal:
Save Time
We do the leg work, negotiate the price, and secure the deal. You simply show up and purchase your vehicle.
Example:
You want to trade in your Dodge Caravan for a Kia Optima. We will shop your vehicle to Dodge dealers in the area. You get more money for your Caravan than you would get at the Kia dealership, because their primary customers are in the market for imported used cars, and the Kia dealership may not recognize the value of a domestic car.

The result is that we save you time, and get you thousands more for your trade-in.
Save Aggravation
Allow Auto Buying Assistant to negotiate your deal. Avoid price haggling from professional negotiators. Let us secure you price and ensure you make a commitment that you are ready for. You choose the make, model and color. Auto Buying Assistant does the negotiating.
We believe the key to success is simple:
Deliver on our promises, fulfill our commitments, and continually invest in the quality of our relationships.
At Auto Buying Assistant, we believe buying an automobile is a major purchase. When you make a decision to purchase an automobile, it should be an enjoyable, efficient, exciting, and hassle free experience. We make this a reality for you.
Buying Assist Description & Fees:
Flat Fee: $365.00 Terms
Buyer's Assistant will provide a complete auto buying service. This includes research and assistance with vehicle selection, negotiating the vehicle price, trade negotiation, presence at delivery, and assistance with locating financing. These services ensure a smooth transition. Part of this service plan includes working with you to determine the best value for your needs. Vehicles are evaluated in terms of reliability, resale value, safety ratings, mileage, and your particular needs and usage.
Brokering / Selling vehicles:
Price $569.00 Terms

Let us do all the work to obtain the best sale price for your vehicle. We will take pictures of your vehicle, post a full description of the vehicle on major websites, field phone calls from potential buyers, handle the negotiation, and present you with offers. Let us bring the buyer to you! You pay Auto Buying Assistant a flat fee of $549.00 regardless of the sale price.
Appraisal / Automotive Inspection Services:
Pricing: $365.00 to $725.00

We offer a full line of appraisal services ranging from routine appraisal, estate appraisals to diminished value appraisals. Contact us for complete details on our appraisal services and pricing. We also conduct a vehicle inspection for clients looking to purchase a private party vehicle.
Automotive Consulting:
Pricing: $79.00 Per Hour Terms

We are happy to assist client with any questions around the automotive needs as well as assisting them in deciding which vehicle would fit their needs, talk about safety, gas mileage, payments, vehicle cost etc. We also can provide assistance to clients that are in need of help in getting their vehicle registered. We offer assistance in taking clients out to dealerships to view diffrent vehicles as an option to purchase. We can assist with all your automotive needs please contact us with any questions.
Company Fleet Accounts:
Contact us for Pricing. Terms
Send an Email | Call us: (207) 838-6082

We have been purchasing vehicles for companies throughout ME, NH, MA, VT, RI and even in SC, PA, TN. We assure you our getting the best prices out there by conducting a full dealer bid process securing the best price structure getting the best corporate rates or lease options while saving your company time, stress & money. ABA provides a easy, stress free buying experience.
Transportation: Relocating / Snowbirds Going South:
Contact us for Pricing.
Send an Email | Call us: (207) 838-6082


Do you need your car shipped? Going South for the winter?

Are you a snowbird who wants to avoid the hassle of driving to and from your warm destination each year or are you simply relocating? We have a solution! We can arrange to have your vehicle transported to and from your destination. No driving or high gas prices. When you arrive to your destination, your vehicle will be waiting for you. Our shipping fees are the best out there.
Payment:
We accept all major credit cards and debt cards. 

To help protect against identity theft or fraud, all credit card transaction are done from our main office. To process your payment contact us by email or phone and we will be more than happy to assist you. There will be a 3.5% processing fee applied to all credit card and debt card transactions.
Send an Email | Call us: (207) 838-6082
---
Thinking about that person who is tough to buy for?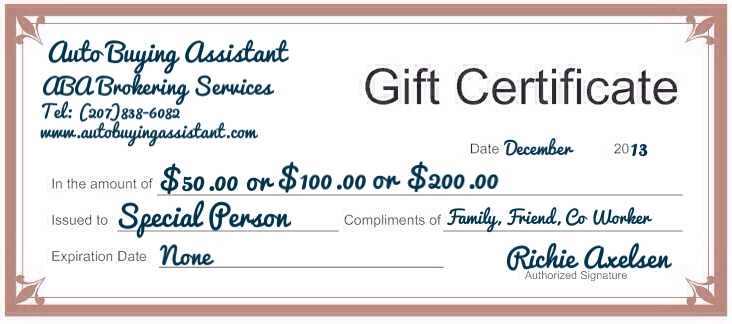 How about an Auto Buying Assistant gift certificate? This gift can be used for any of our services.